Look no further! Dakota Dream Bed & Breakfast & Horse Hotel in Custer, SD is situated on 20 pine-covered acres. We offer two beautifully decorated guestrooms each with a private bath. You will enjoy the feeling of being away from it all, watching deer and turkeys from the deck; but you will be close to all the attractions that the Black Hills of South Dakota has to offer.

Bringing your horses with you? No problem! Dakota Dream's Horse Hotel (barn) has five stalls with paddocks and pasture. While you're being pampered in our bed and breakfast, your horses will be comfortable as well.

CONVENIENT LOCATION

Just outside the city limits of Custer, Dakota Dream B&B is located within a short drive of many Black Hills attractions:

Custer City - 5 minutes
Mickelson Trail - 5 minutes
Custer State Park - 10 minutes
Crazy Horse Memorial - 15 minutes
Mount Rushmore - 30 minutesSturgis Motorcycle Rally
- 90 minutesWEDDINGSDakota Dream Bed & Breakfast in Custer, SD is the perfect spot for that outdoor wedding. With 20 acres of pines and picturesque meadows, you can choose a spot for the wedding of your dreams. We provide the location; you arrange the rest. There is ample level parking available. And we will be happy to recommend rental companies for tents, tables, chairs, etc.

---
Innkeepers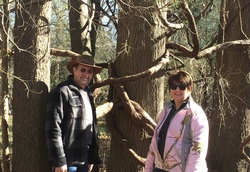 We were born and raised in Central Pennsylvania. And we married, worked, and raised our family in the same county in which we were both born. After numerous vacations and hunting trips in the "West," it had become a 15-year dream of ours to move west to the Black Hills of South Dakota. Our "dream" came true in September 2012. Hence the name "Dakota Dream."

Ernie is a carpenter by trade, and Kathy spent 25+ years working in banking. We are also 10-year inn keeping veterans having owned and operated a 5-room bed and breakfast in PA. It was the many positive experiences, blessings and lasting friendships made during those 10 years of inn keeping that made us want to continue in the business of serving guests. And what better place than in The beautiful Black Hills and Custer, South Dakota.

We look forward to having you stay with us at Dakota Dream.

~ Ernie & Kathy Mowery
---